(1) Fees:
a.Tuition Fees per semester for Fall 2018 (one academic year includes 2 semesters)

b. Tuition & Fees standard with extended study: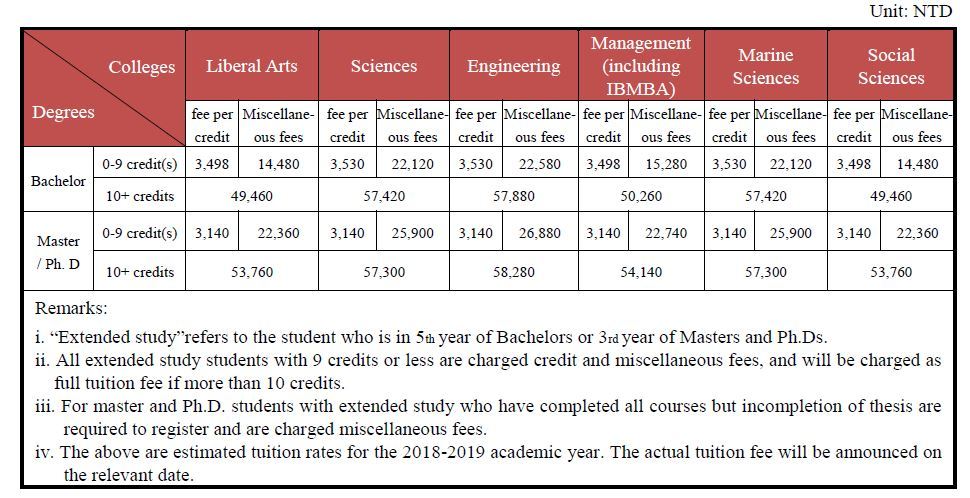 c.Students admitted to NSYSU via Education Cooperation Framework Agreement (such as Taiwan Scholarship, VEST500 and other similar programs) shall pay for tuition fees in accordance with the agreements.
(2) Insurance fee: it is mandatory for international students living in Taiwan to join the National Health Insurance (NHI) after acquiring the ARC (Alien Resident Certificate) for 6 months and the insurance fee will be included in the tuition fees payment form. Students are required to provide proof of personal health insurance upon registration prior to joining the NHI for the period from September 2019~ February 2020 (Fall semester) March 2020~August 2020 (Spring semester).
(3) Dormitory fee: NSYSU provides on-campus housing. Dormitory fee is approximately NT$34,000 per academic year (not including summer and winter breaks). Students may submit application forms for housing after being admitted. Rooms are assigned on a first-come-first-served basis.
(4) Other fees: Expenses on textbooks vary depending on the fields of study. Fees for meals are approximately NT$8,000 to NT$10,000 per month.